Gudrun Steen-Andersen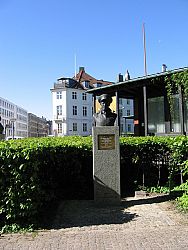 Date:
2010
Type:
Portrait bust
Materials:
Norwegian larvikit
Measurements:
Bust: 70 x 55 x 31 cm. Base: 171 x 55,5 x 38,5 cm
Pictures
Facts
Inscription:
On the brass plate on the front of the base at the top in white lettering: "PER ARDUA AD ASTRA" ("Through Adversity to the Stars")/Wing Commander Flying,/Lieutenant-Colonel/KAJ BIRKSTED/1915-1996/DSO, OBE, DFC, Krigskorset m. Sverd og/Stjerne p.p./Flying-Ace/"The men who go first are rarely popular with/those who wait for the wind to blow"/R.V. Jones".
On the front of the base at the bottom: "ERECTED BY/THE KAJ BIRKSTED COMMITTEE/ 5 MAY 2010"
On the left hand side of the base, at the bottom: "GUDRUN/STEEN-ANDERSEN/2010"
On the right hand side of the base, at the bottom: "BASE GIVEN BY/NORWEGIAN WAR VETEERANS/ROYAL AIR FORCES/ASSOCIATION"
Bronzestøber:
Kunstgiesserei Strassacker, Süssen
Owner:
Municipality of Copenhagen
Donated by:
The Kaj Birksted Committee
Placement
Address:
Churchill Park near the Frihedsmuseum
Litterature
Recommended litterature:
Paul E. Ancker: De danske militære flyverstyrkers udvikling 1940-1945, Bind I-III, København 2001-06. Kristen Nørgaard Kristensen: Wing Commander Kaj Birksted mindes, Flyv, juli 2008. Peder Hove: Kaj Birksted. Dansk jagerpilot i allieret tjeneste, København 2010. Under Dannebrog, april 2010, nr. 2, 21, 23.
We have more litterature about this monument - please contact us
Description
Kaj Birksted trained as a pilot in the Naval Flying School. In 1940, he served as a naval flying officer at the Copenhagen Naval Air Station. During the war, after a brief period of training in modern fighter aircraft in Canada, he was appointed Wing Commander in the two Norwegian RAF squadrons 331 and 332 (RNO.AF Squadron).

Birksted was awarded three British military decorations, the DSO (Distinguished Service Order), OBE (Order of the British Empire) and DFC (Distinguished Flying Cross) along with the Norwegian decoration Krigskorset med Sværd og Stjerne (War Cross with Sword and Star). He was a Flying Ace, the designation for a pilot who in aerial combat has shot down more than five enemy aircraft. Birksted shot down altogether 10 enemy aircraft.

The portrait bust shows the heroic airman in uniform jacket and cap with his collar carelessly raised and with a cravat at his throat. On his chest can be seen the RAF emblem and the Order of the War Cross with Sword and Star.